Tectonic activity has been detected on the moon by researchers who have discovered a system of moving ridges topped with boulders on its near side.
"There's this assumption that the moon is long dead, but we keep finding that that's not the case," said Professor Peter Schultz at Rhode Island's Brown University.
"It appears that the moon may still be creaking and cracking – potentially in the present day – and we can see the evidence on these ridges," explained Professor Schultz who co-authored a study published in the journal Geology.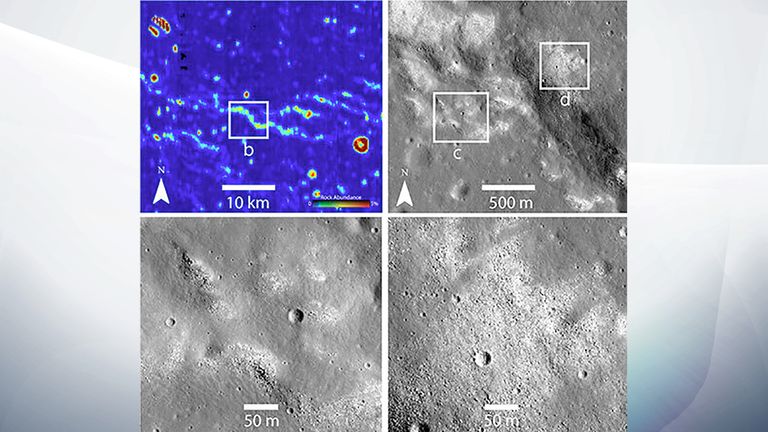 The majority of the moon's surface is covered by something called regolith, the powdery dust of rocks created by constant meteorite impacts.
Because the moon has no atmosphere to speak of, rocks and orbiting debris crash right into its surface and blow apart.
There are very few spaces on the lunar surface which aren't covered by regolith – but some seemingly new spots have recently been discovered.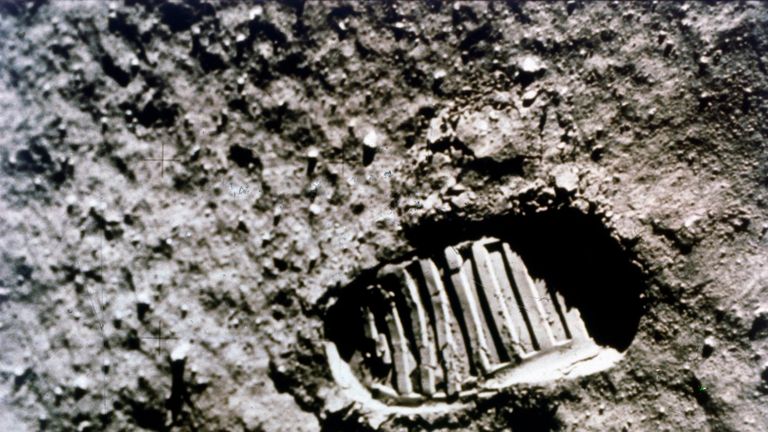 Adomas Valantinas, a graduate student at the University of Bern who was a visiting scholar at Brown, used data gathered by NASA's Lunar Reconnaissance Orbiter (LRO) to spot these strange bare spots.
"Exposed blocks on the surface have a relatively short lifetime because the regolith buildup is happening constantly," Mr Schultz said.
"So when we see them, there needs to be some explanation for how and why they were exposed in certain locations."
"Just as concrete-covered cities on Earth retain more heat than the countryside, exposed bedrock and blocky surfaces on the moon stays warmer through the lunar night than regolith-covered surfaces," the researchers said.
So using a tool on the LRO to measure the surface's temperature, Mr Valantinas was able to discover more than 500 patches of exposed bedrock on narrow ridges following a pattern across the nearside of the moon.
Such ridges had been discovered before, but they were on the edges of very ancient lava-filled impact basins and could be explained by continued sagging in response to weight caused by the lava fill.
The new study found that these ridges are actually related to a mysterious system of tectonic features – ridges and faults – unrelated to the lava-filled basins.
"The distribution that we found here begs for a different explanation," Professor Schultz said.
Mapping out all of these exposed ridges, Mr Valantinas and Prof Schultz discovered an interesting correlation between them and a previous NASA mission.
Back in 2014, NASA's GRAIL mission discovered a network of ancient cracks in the moon's crust, which became channels for magma from the moon's core to flow to the surface.
This network lined up almost perfectly with the blocky ridges.
"It's almost a one-to-one correlation," Prof Schultz said. "That makes us think that what we're seeing is an ongoing process driven by things happening in the moon's interior."
So the ridges, according to these scientists, are ancient magma flows which are still heaving upwards – breaking the surface and draining the regolith into cracks and voids, leaving the blocks exposed.
"Because bare spots on the moon get covered over fairly quickly, this cracking must be quite recent, possibly even ongoing today," they say.
But what is causing this? According to the scientists, the tectonic movements may actually have begun billions of years ago with a giant impact on the far side of the moon.
Professor Schultz had previously proposed such an impact had formed the 1500-mile South Pole Aitken Basin, and shattered the interior on the opposite side of the moon – the side facing the Earth.
Magma from the core then filled these cracks and controlled the pattern detected in the GRAIL mission. The blocky ridges comprising this network now trace the continuing adjustments along these ancient weaknesses.
"This looks like the ridges responded to something that happened 4.3 billion years ago," Prof Schultz said. "Giant impacts have long lasting effects.
"The moon has a long memory. What we're seeing on the surface today is testimony to its long memory and secrets it still holds."
Chinese smartphone maker Realme has started rolling out the latest software update to the Realme X50 Pro smartphone. The update brings the UI version RMX2076PU_11_A.19 to the device along with the Android security patch for the month of April.
Realme says that it will have a staged roll out in order to ensure the stability of this update. It will be randomly pushed out to a limited number of users initially and will have a broader roll out in a few days. The update roll out was announced by the company in a post through its official community forum.

Changelog with the update includes added Vivid mode to Screen Color mode, changed charging icon and fix for the screen rounded corner problem. Key change that the latest version brings is that it optimizes the quality of photos and adds the ability to record 60FPS 4K videos. It also brings a fix for screen redness at the low brightness in some scenes and optimizes network stability.
Realme X50 Pro: Specifications
The device offers a 6.44-inch Samsung Super AMOLED FHD+ display of 2400×1080 pixel resolution and 20:9 aspect ratio. It supports HDR10+ and 100% DCI-P3 and 105% NTSC colour gamuts and houses an in-screen fingerprint sensor that is claimed to unlock in 0.27 seconds.
Realme X50 Pro comes powered by Qualcomm Snapdragon 865 SoC, paired with up to 12GB RAM and 256GB UFS 3.0 storage.
The handset is backed by a 4200mAh battery. Realme X50 Pro offers 65W fast charging support that is claimed to charge the device completely in 35 minutes. The smartphone offers a quad-camera setup on the back comprising a 64MP Samsung ISOCELL GW1 primary sensor, an 8MP ultra-wide-angle lens, a 12MP telephoto lens and lastly a 2MP portrait camera. On the front, there is a dual front camera of 32MP + 8MP.
Domain supervisor ICANN 'withholds consent' for the sale of the .org domain registry to a private equity firm, following months of protests
Internet supervisor ICANN has confirmed it is withholding 'consent for a change of control of the Public Interest Registry (PIR).'
Arguments have been raged since November 2019, when it was revealed the current owner of the .org registry, the Internet Society, planned to sell the domain to newly formed equity group Ethos Capital for a $1bn endowment.
In December 2019, ICANN said it "does not have the authority" to act on the matter, since its role is only to "assure the continued operation of the .org domain".
Consent withdrawn
The Internet Society, for its part, had said the sale of the .org registry would provide it with "sustainable funding" to continue its work on internet-related standards, education, access and policy.
But protesters of the deal including California's Attorney General, warned that changes to the .org Registry Agreement could allow the registry's owner to do significant harm to the global NGO sector, intentionally or not.
Also, many protestors were unhappy that Ethos Capital never fully disclosed who its directors or investors were.
And some of the world's largest non-profit organisations, were worried their online addresses were going to be exploited for profit.
But now ICANN's board has announced it decision to withhold consent for the sale.
"Today, the ICANN Board made the decision to reject the proposed change of control and entity conversion request that Public Interest Registry (PIR) submitted to ICANN," it said.
"After completing extensive due diligence, the ICANN Board finds that withholding consent of the transfer of PIR from the Internet Society (ISOC) to Ethos Capital is reasonable, and the right thing to do," it said.
The Board said that the proposed sale impacted one of the largest registries with more than 10.5 million domain names registered.
"After completing its evaluation, the ICANN Board finds that the public interest is better served in withholding consent as a result of various factors that create unacceptable uncertainty over the future of the third largest gTLD registry," it said.
UK lawmakers questioned whether social media giants are doing enough to stop the spread of false information, after a conspiracy theory that 5G technology is contributing to the Covid-19 pandemic led to a spate of attacks on telecom masts and engineers.
Representatives from Facebook Inc, Alphabet Inc's Google and Twitter Inc were asked to appear before the Department for Digital, Culture, Media and Sport committee on Thursday to explain how their companies are tackling disinformation. It didn't go well.
"We will be writing to all of your organisations with a series of questions and, frankly, we will be expressing our displeasure at the quality of the answers – well, the lack of answers – we received today," chairman Julian Knight concluded after more than an hour of questioning via conference call.
The Silicon Valley giants outlined measures they've taken to combat fake news, such as Facebook's move to restrict WhatsApp message forwarding and promote official guidance on the pandemic. But the panel of British lawmakers often interjected bluntly and deemed the testimony unsatisfactory.
Legislators demanded to know how Twitter was cracking down on world leaders, including US President Donald Trump, if they spread misinformation. The company's UK head of government relations, Katy Minshall, was also grilled about the prevalence of bots on the site, which are automated accounts that perform repetitive tasks, such as sharing fake news stories.
"We're really proud of the progress we've made over the past couple of years," said Minshall, responding to a question about online abuse.
"Well I don't know why," interrupted member of Parliament John Nicolson.
Google public policy manager Alina Dimofte was asked why YouTube didn't tackle 5G conspiracy videos earlier. It banned such videos on April 7 after a spate of attacks on towers and telecom engineers.
'Astonished'
MP Steve Brine said that, during the session, he found a Facebook post from his district inciting the destruction of a 5G mast, which has been baselessly linked to the spread of Covid-19.
More than 60 telecom masts have been attacked in the UK in the past few weeks as the theory has gained traction and even made it onto mainstream TV shows.
Brine added that he was "astonished" that Facebook's UK Public Policy Manager Richard Earley had not personally discussed the issues with chief executive officer Mark Zuckerberg or its vice president for global affairs and communication, Nick Clegg. Clegg is also the former UK deputy prime minister.
TikTok, the most downloaded app in the world outside of China during the crisis, avoided questioning. The relatively new social media site was not asked to appear despite also hosting conspiracy theories. – Bloomberg
Wall Street tumbles as tech stocks take a hit.
U.S. stocks fell on Friday as investors reeled from earnings reports by Apple and Amazon that showed the depth of the coronavirus impact on big business.
The S&P 500 was down more than 2 percent in early trading, dragged lower by shares of tech companies.
Amazon stock fell about 5 percent after the company reported on Thursday that despite surging sales in the first quarter, costs to deliver products amid the pandemic had taken a big bite out of profits. Jeff Bezos, the company's founder, said the expense of protecting workers, including protective equipment and Covid-19 tests, could swing it into a loss of as much as $1.5 billion in the current quarter.
Apple stock also fell, after the company refused on Thursday to give any estimates for the current quarter. But the tech giant signaled confidence by announcing another big stock buyback, and said that its first-quarter revenue rose nearly 1 percent to $58.3 billion, despite lockdowns in China, where it assembles nearly all of its products.
The emergence of investor doubt could signal a turn for the markets, which have risen despite the steady drumbeat of negative news. Even with a retreat on Thursday, Wall Street closed out the month of April with a nearly 13 percent gain, its best performance since 1987.
While most financial capitals in Asia and Europe were closed on Friday for the celebration of Labor Day, the few that were open fell significantly. In London, the FTSE 100 was down nearly 2 percent, while markets in Australia and Japan were sharply lower. On holidays, markets can be susceptible to big swings because of the relatively few transactions being made.
In the oil markets West Texas intermediate, the U.S. benchmark, gave up gains from earlier in the day and was 2 percent lower, at $18.47 a barrel. The international benchmark, Brent crude, was 2.6 percent higher, at $25.98.
Tesla stock falls after Elon Musk says it's trading 'too high.'
Tesla's chief executive, Elon Musk, said on Twitter on Friday that the company's stock price, which has been surging in recent weeks, was "too high" in his opinion. The stock fell sharply after the post, and was trading down more than 9 percent.
Always volatile, the price of the company's shares have been rising steadily since mid-March in part because investors believe Tesla is poised to lead a transition to electric cars. The company's shares are worth more than the combined value of General Motors, Ford Motor and Fiat Chrysler, which make millions of cars a year compared to the hundreds of thousands that Tesla produces.
This week, Tesla announced that it earned a small profit in the first quarter — the third straight profitable quarter for the company, which has never been profitable over a full year.
During the company's conference call with analysts to discuss its quarterly results, Mr. Musk, who has attracted devoted fans and critics, lashed out at stay-at-home orders that have closed Tesla's Fremont, Calif., car factory, calling them "fascist."
Mr. Musk also said on Friday that he was "selling almost all physical possessions" and would no longer own a home. He also posted lines from the national anthem and wrote, "Now give people back their FREEDOM."
About 38 million people receive benefits through the Supplemental Nutrition Assistance Program, but how they can use them is often limited by technology or government policy. That means they must walk the aisles, increasing the possibility of coronavirus exposure for a group of Americans that includes the poor, older people and those with disabilities.
Most states offer no way to use SNAP benefits online, although Texas and several other states have recently signed up for a pilot program that would expand that access.
Congress authorized the pilot program six years ago, but it got off the ground only last year — and advocates for low-income Americans say it could have made a bigger difference during the pandemic if the government and other stakeholders had moved faster.
"It should have happened yesterday, and it should be accessible to everyone," said Patricia Baker, a senior policy analyst at the Massachusetts Law Reform Institute, an advocacy group for low-income people.
Exxon Mobil said on Friday that it lost $610 million in the first three months of the year, compared to a gain of $2.4 billion the year before, even though combined oil and natural gas production was up 2 percent. It was the first time since the merger of Exxon and Mobil in 1999 that the company lost money in a quarter.
The company announced it was further cutting its capital spending by 30 percent, to $23 billion from previously announced guidance of $33 billion.
"Covid-19 has significantly impacted near-term demand, resulting in oversupplied markets and unprecedented pressure on commodity prices and margins," Darren Woods, Exxon's chief executive, said in a statement.
Another oil giant, Chevron, reported first quarter earnings of $3.6 billion, up $1 billion from the year before, but its sales fell more than 10 percent and the company warned that its profits would be curtailed by low oil prices this year.
In a conference call with analysts, Mr. Woods expressed optimism that energy demand would rebound once the pandemic subsides. "The fundamentals that underpin our business remain strong," he said. But he added, "its going to be a very challenging summer."
As the coronavirus spreads around the world, people are no longer commuting to work, flying on planes and going on cruises, smothering the demand for oil.
It has been devastating for the industry. Oil field workers who dined on strip steak and lobster before energy prices went into a tailspin in March are now standing in line at food banks.
For over a decade, the Permian Basin has been the center of the American oil boom. Now, it's the center of its demise. In just over a month, scores of drilling rigs have been dismantled and tucked away in storage yards. Pump jacks, the piston pumps that lift crude out of the ground, have seesawed to a standstill as operators shut down wells.
"We've had our ups and downs, even over the last 20 years, but this feels very different," said Matthew Hale, the president of S.O.C. Industries, a pump truck and chemical services company that has operated in the Permian for 19 years. "We're concerned about our industry, survival and what survival is going to look like."
One of the stranger side effects from the coronavirus pandemic: 40-foot steel containers, packed with unwanted Chinese goods, piling up at docks in South Korea, Morocco and Togo.
Two months ago, retailers and manufacturers in the West worried that they might run out of goods from factories in China that had been temporarily closed because of the virus. Now the worry lies not in empty supply chains, but in supply chains that are full to bursting.
Department stores in the United States have been canceling and postponing orders. But a flood of goods that had already left factory gates in China is heading for stuffed warehouses and padlocked stores in the West.
Two of the world's largest container shipping lines, Maersk and Mediterranean Shipping, are offering unorthodox solutions. They are each promoting programs that allow huge numbers of containers to be dropped off and stored at ports that previously were just transit points, such as Busan, South Korea; Las Palmas, Spain; Tangier, Morocco; Salalah, Oman; and Lome, Togo.
"Slow down your supply chain by increasing the ocean lead time," Maersk now promises.
The accumulation of full containers may not last, for a reason that Chinese exporters and their workers also will not like. Surveys released on Thursday of Chinese purchasing managers showed that few orders are arriving at Chinese factories for further exports.
A Walmart store in Massachusetts is ordered to close until its workers are tested.
City officials in Worcester, Mass., ordered the closure of a local Walmart store on Wednesday after it was discovered that a number of the workers had tested positive for the virus.
The city said Walmart was complying with the order. The store cannot reopen until all 400 of the workers have been tested and the city's medical director reviews the results.
It is the second Walmart to be closed in less than a week. Last week, a Walmart store in Aurora, Colo., was ordered closed by local health officials after employees and shoppers complained of a lack of social distancing, crowding and employees not wearing face masks.
One employee of the store, an employee's family member and a third-party contractor had died of the virus, according to the Tri-County Health Department in Colorado. Eleven additional confirmed cases were linked to the outbreak at the store.
The store was reopened on Sunday after a deep cleaning. The agency said Walmart had "enhanced metering of shoppers into the store" and employee screening for illness, using tools supplied by the health department.
As parts of Asia have managed to largely contain the spread of the coronavirus, they face continuing challenges restarting their economies. One issue: How to get the wheels of business rolling again when businesspeople can't go anywhere?
Hong Kong, China and South Korea have begun taking steps to allow special channels for factory owners, salespeople, buyers and others who need to travel for work to begin to cross borders again, even as broader restrictions on movement remain in place.
Details of the plan are still being worked out. But those eligible would be required to demonstrate a need for their travel and would have to have their health monitored upon their return, Hong Kong officials said.
"Such activities are essential for Hong Kong's ongoing development," said Edward Yau, the Hong Kong secretary for commerce and economic development. "Of course, we need to strike a balance between making sure that the epidemic will not come back through this traveling, but at the same time facilitating legitimate reasons for crossing the boundary."
Officials from China and South Korea have also reached an agreement in principal to create a fast track for business and other essential travel, Geng Shuang, a spokesman for China's Ministry of Foreign Affairs, said last month.
Under the agreement, which goes into place Friday for travelers between South Korea and 10 parts of China that see large numbers of business travelers, visitors will have to take tests for coronavirus infections both in their home country and after arrival in their destination. Beijing is also requesting that Korean businesspeople entering China via the new fast-track procedures move only between their places of residence and work, Korean officials said.
China and Singapore are exploring how to set up a similar arrangement, Mr. Geng said.
Own a small business? We have answers to your questions on bankruptcy.
All of the forecasts point in the same direction: A wave of small-business bankruptcies is coming.
More than 40 percent of America's 30 million small businesses could close permanently in the next six months because of the coronavirus pandemic, according to a poll by the U.S. Chamber of Commerce.
"It's a crisis that will impact our economy for generations," said Amanda Ballantyne, the executive director of Main Street Alliance, an advocacy group for small business.
Commercial bankruptcies in the first quarter of 2020 ticked up 4 percent from a year earlier, according to data from the American Bankruptcy Institute. And many of those filings were made before the pandemic, when the economy was healthy. Now, some owners are waiting to find out whether they will receive federal stimulus aid before deciding on bankruptcy.
Many may just disappear. For some, though, a bankruptcy law that took effect in February, the Small Business Restructuring Act, could help them survive the pandemic.
Catch up: Here's what else is happening.
Chevron reported first-quarter earnings on Friday of $3.6 billion, up $1 billion from the year before. Sales were down by more than 10 percent as the company warned that its profits would be curtailed by low oil prices this year.

McDonald's, which shut down its 1,300 restaurants in Britain when lockdown rules were announced in March, said Friday it would begin reopening locations in mid-May. The 15 restaurants set to reopen May 13 will have a limited menu and will be for delivery only.

Ryanair, the Irish discount carrier that has been grounded since mid-March, said on Friday that it planned to cut up to 3,000 jobs, nearly 20 percent of its work force. The airline said that it expected to return to service in July and that it would take two years for passenger demand to return to pre-pandemic levels.

Boeing said on Thursday that it had raised $25 billion in a bond offering in an effort to inject liquidity into its business. As a result, the aerospace giant said that it would not seek additional funding through capital markets or aid from the federal government.
Reporting was contributed by Vikas Bajaj, Clifford Krauss, Tamir Kalifa, Tara Siegel Bernard, Amy Haimerl, Kevin Granville, Alexandra Stevenson, Su-Hyun Lee, Austin Ramzy, Keith Bradsher, Geneva Abdul, Jack Nicas, Karen Weise, Gregory Schmidt and Niraj Chokshi.